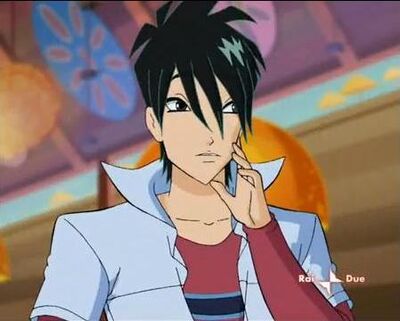 Andy
 is a guitarist in a band, with his friends
Mark
and
Rio
, that performs at
Frutti Music Bar
regularly throughout Season 4. He is
Bloom
's ex-boyfriend.
Personality
Edit
Andy lives in Gardenia and is Bloom's ex-boyfriend. He caused a lot of problems for the specialists in the beginning. Sky thought that Bloom still had feelings for Andy and it made him jealous and Riven thought that Musa and Andy were having an affair (even though he was just helping her with her music) and also got jealous, this caused fights between the Winx Girls and the Specialists. Andy obviously still has feelings for Bloom due to the things he says to her and the things he does but she seems to not return these feelings for him anymore.
In Winx Club
Edit
Andy has short, somewhat spiky black hair, dark eyes, and pale skin. He wears a light blue, short sleeved shirt opened over a dark red and dark blue striped long sleeved shirt, with dark jeans, and reddish purple high tops. On his first appearance in Season 4, it was stated that Andy used to wear glasses, but later started using contact lenses.
On Sora's Team
Edit
Andy's one of the citizens of Gardenia that calls the team for emergencies when enemies attack. He also writes songs whenever the  team has a victory against enemies.
Ad blocker interference detected!
Wikia is a free-to-use site that makes money from advertising. We have a modified experience for viewers using ad blockers

Wikia is not accessible if you've made further modifications. Remove the custom ad blocker rule(s) and the page will load as expected.