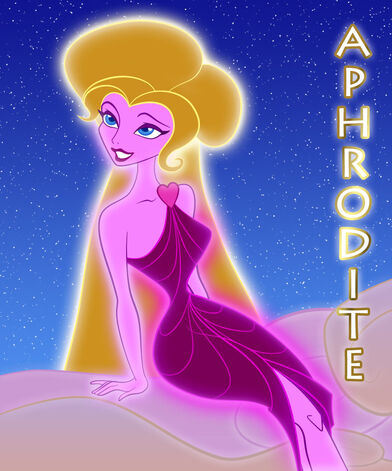 Aphrodite
 is the Olympian Goddess of love and beauty. She is loved and adored by many and she even has her own theme song. Aphrodite is also a daughter of Zeus.
Hercules (film)
Edit
In the film, she has a very minor role in which she only appears in minor cameos.
In the beginning of the film, she is present for the party celebrating the arrival of Zeus and Hera's newborn child Hercules. Eighteen years later, she is seen imprisoned with the other Gods after they lost against Hades and the Titans. Luckily she and the other Gods are freed by Hercules. At the end of the film, after Hercules decides to be a mortal on Earth, Phil attempts to flirt with her, she then passionately kisses him before Hercules pulls him away.
Hercules (series)
Edit
In the animated series, she makes numerous appearances and acts as the force behind the plot in quite a few episodes.
Hercules and the Big Kiss
Edit
In this episode, Cassandra foresees herself kissing Icarus so she decides to sell her soul to Hades in order to prevent this. After Hercules hears of this he asks for Aphrodite's help, who proceeds to give him Cupid's bow and arrows to make Cassandra fall in love with Icarus thus breaking Hades' deal.
Hercules and the Dream Date
Edit
In this episode, Hercules wants a date to the Aphrodesia Dance so he asks Aphrodite to bring his clay sculpture to life. She perfects the sculpture by embodying her hercules physical and Personality attributes
Powers and Abilities
Edit
Aphrodite possesses the natural powers and abilities of an Olympian goddess such as: immortality, omnipresence, superhuman strength, metamorphosis and teleportation .
As the Goddess of Love and Beauty, she has control over love and beauty and is responsible for creating love between mortals.
On Sora's Team
Edit
As using her charms to join Sora on his journey, she also loves seeing the love in every world. She mostly gets along well with Sora, Kairi, C.A. Cupid, and, Jackson Jekyll.
Ad blocker interference detected!
Wikia is a free-to-use site that makes money from advertising. We have a modified experience for viewers using ad blockers

Wikia is not accessible if you've made further modifications. Remove the custom ad blocker rule(s) and the page will load as expected.