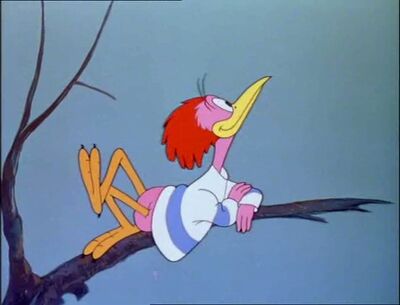 The
Aracuan Bird
 is a wacky South American bird of undetermined type from The Three Caballeros and Melody Time. He later appeared in a few
Donald Duck
cartoons in which he drove Donald crazy.
Background
Edit
The Aracuan Bird is an odd species of tropical bird (even described in the film Donald was watching that first revealed it to him as "one of the most eccentic birds ever seen") that got it's name from a song that it sings. It has the ability to do the impossible (this includes, but is not limited to, simple cartoon antics like reaching out of a film reel image to shake someone's hand). It is said to be "seen everywhere", most notably South America.
Aracuan Bird is a pink bird with red hair, yellow beak and red tail feathers, white shirt with blue stripes (first appeared while wearing a yellow-and-green striped bathing-suit while swimming), orange legs.
On Sora's Team
Edit
After when the Aracuan Bird snuck on the ship, Sora, and Kairi let him joined, he was a lot of help and great at bringing smiles to everyone.
Ad blocker interference detected!
Wikia is a free-to-use site that makes money from advertising. We have a modified experience for viewers using ad blockers

Wikia is not accessible if you've made further modifications. Remove the custom ad blocker rule(s) and the page will load as expected.