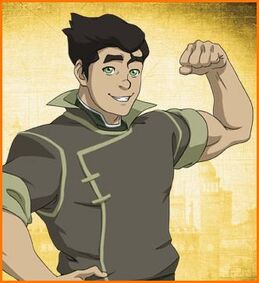 Bolin
 is an earthbender from a multicultural family who grew up on the streets of Republic City under the protection of his older brother, Mako. Eventually, he and his brother formed a pro-bending team, the Fire Ferrets, that would eventually include Avatar Korra. After the Pro-bending Tournament ended, Bolin joined Team Avatar in an attempt to disband the Equalist organization and succeeded. After the victory, and time past, he and the team met Sora's team and became great allies.
Ad blocker interference detected!
Wikia is a free-to-use site that makes money from advertising. We have a modified experience for viewers using ad blockers

Wikia is not accessible if you've made further modifications. Remove the custom ad blocker rule(s) and the page will load as expected.