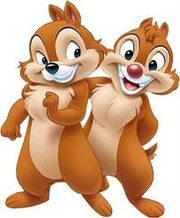 Chip n Dale
are two chipmunks that are very clever and not ordinary aniamls. Chip is the logical schemer, and Dale is the goofy, dim-witted one. Originally the two were of a very similar appearance, but as a way to tell them apart, some differences were introduced. An easy way to visually tell them apart is that Chip has a small black nose and two centered protruding teeth, whereas Dale has a big red nose and his two prominent buck teeth exposed. Chip is also depicted as having smooth, short fur atop his head while Dale's tends to be ruffled.
Ad blocker interference detected!
Wikia is a free-to-use site that makes money from advertising. We have a modified experience for viewers using ad blockers

Wikia is not accessible if you've made further modifications. Remove the custom ad blocker rule(s) and the page will load as expected.