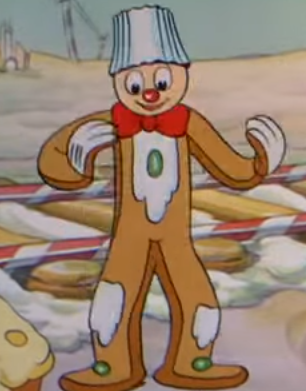 The Cookie King was a Hobo Cookie and is a wandering hobo who comes to the aid of a girl who has been shut out of the Cookie Carnival in the 1935 Silly Symphony animated short, The Cookie Carnival.
The Cookie Carnival Edit
He walked along the rails of a train when listen to cry to Sugar Cookie Girl, a girl from ginger who wanted to go to the parade of cookies, but can not because it makes no decent clothes that carry. Hobo support changing her hair to blonde, creating a dress with cream, candies and sweets, and making it up. Once she won the position of Queen, he tries to see her, but is pursued by guards, but presented before her, Cookie says that he will be their King.
House of Mouse Edit
Hobo appears next to one of the Judges in the film Mickey's Magical Christmas: Snowed in at the House of Mouse.
coming soon....
On Sora's Team
Edit
see Cookie Queen
Ad blocker interference detected!
Wikia is a free-to-use site that makes money from advertising. We have a modified experience for viewers using ad blockers

Wikia is not accessible if you've made further modifications. Remove the custom ad blocker rule(s) and the page will load as expected.