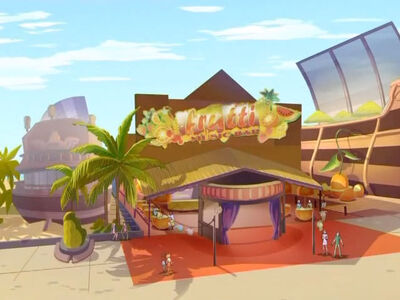 The
Frutti Music Bar
 is the
Gardenia
local juice bar where
Roxy
and her father,
Klaus
, work.
In Winx Club
Edit
After the Winx befriend Roxy, the Fruitti Music Bar becomes the primary hangout when the Winx are not working at Love & Pet. Bloom's ex-boyfriend Andy and his band sometimes play at the bar and so did the Winx when they formed a band. The Specialists and Nabu all end up working there waiting tables after they fail to find part-time employment elsewhere.
Ad blocker interference detected!
Wikia is a free-to-use site that makes money from advertising. We have a modified experience for viewers using ad blockers

Wikia is not accessible if you've made further modifications. Remove the custom ad blocker rule(s) and the page will load as expected.