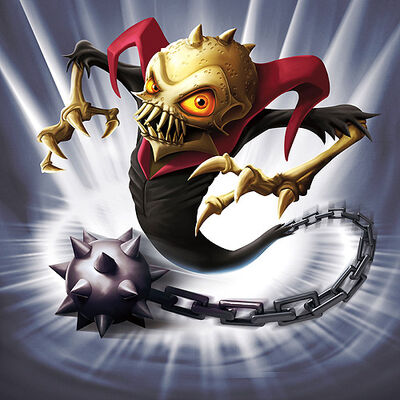 Ghost Rider
 is a skeletal ghoul who is one of the playable Skylanders in the Skylanders series, first appearing in Skylanders: Spyro's Adventure. He is available exclusively in the Darklight Crypt Adventure Pack.
Personality
Edit
Ghost Roaster is known for his relentless, undying appetite for ghosts (particularly evil ghosts). However, being a chef, he is good in the kitchen for making delicious recipes.
Biography
Edit
There was a time when Ghost Roaster was neither a ghost nor a roaster. Instead he was a chef living in a village high in the mountains. One day, while clipping wool from a sheep to use in a recipe, he accidentally fell into the Valley of the Undead and transformed into a ghost-eating ghoul! After eating an entire spectral village, its Ethereal Ruler chained Ghost Roaster to a spiked ball as punishment. Its rattle can be heard as he wanders the night, warning nearby spirits. When Master Eon eventually heard of his predicament, he figured even a ghost eater could be useful. So he made Ghost Roaster a Skylander... after he promised to eat only evil ghosts.
In Skylanders
Edit
Ghost Roaster absolutely loved food. From spectre soup to phantasm fries, he regarded any undead recipe with relish (and sometimes tops them with relish too). But Ghost Roaster wasn't always a gobbling soul; he was once a simple chef called Olav. Olav lived in a mountain-top village and was said to serve the best sheep-wool stew in all of Skylands (not that anyone had ever tried it anywhere else there). One day, when Olav was wandering the hills searching for sheep (or, more specifically, their wool), he slipped down the mountain side. Luckily he bounced on his behind and made a soft landing in the valley below. Unluckily his bottom was badly bruised. More unluckily still, he had entered the Valley of the Undead, and his days as a friendly foodie were over.
A famished Olav, or 'Ghost Roaster' as he decided to call himself, went in immediate search for a bite to eat. Luckily, a nearby ghost town was spilling over with puffy white spooks - which Ghostie promptly treated as a paranormal all-you-can-eat buffet. Understandably, the town's etheral ruler was a little irritated to find its inhabitants completely devoured. So, as punishment, he chained Ghost Roaster to a rattling spiked ball to warn any wandering spirits. Taking pity on the skeletal ghoul, Master Eon made Ghost Roaster a Skylander - but only after he swore not to turn Hex into a hamburger
On Sora's Team
Edit
As Ghost Roaster joined the team, he proves his usefulness by always fighting evil ghosts and keeping them away from his new friends, epecially the supreme leader.
Ad blocker interference detected!
Wikia is a free-to-use site that makes money from advertising. We have a modified experience for viewers using ad blockers

Wikia is not accessible if you've made further modifications. Remove the custom ad blocker rule(s) and the page will load as expected.