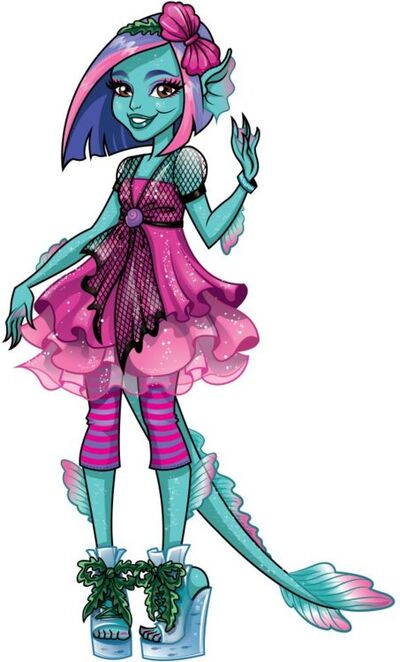 Grimmily Anne McShmiddlebopper
 is a teen celebrity. Her looks and name are inspired by Emily-Anne Rigal, the teen who created the WeStopHate movement. Monster High has teamed up with the movement to promote pleasant behavior. What role Grimmily will play in this is yet to be seen, though she has been called a "new student".
She has a lot of wise and friendly advise to give, even when many ghouls have hate in them.
Story of Joining Sora's Team
Edit
During Lock, Shock, and Barrel's mission in Monster High, they pranked each student of Monster High, but the only ones they haven't pranked was Jackson Jekyll and Twyla, because of how Manny Taur bulllied him and how he only gets invited to parties because he and Holt Hyde share the same body. And Twyla was a very shy ghoul and showed the trio kindness. So the trio began to persuade Jackson and Twyla to join the team and become friends. After Jackson and Twyla accepted, music was turned on from the school party and Jackson turned to Holt. Holt then ratted the trio out and the students began to surround them. But right when everyone was going punish the trio, Heartless, Nobodies and the Unversed were about to attack Draculaura and Ghoulia Yelps. But before they did, the trio moved the ghouls and took the fall, and the students saw the trio fighting the REAL enemies. Lock took down the Heartless, Shock took down the Nobodies, and Barrel took down the Unversed, and as the battle ended, Draculaura and Ghoulia were thankful to the trio for saving them. But when Lock, Shock, and Barrel fainted, the students nursed them back to health. As the trio woke up in the nurses office, they were confused of why Frankie and the ghouls nursed them back to help, and as the students explained, they were all forgiven and the trio explained about the Heartless, Nobodies, other worlds, and Master Xehanort, the students were shocked about their world about to be consumed in darkness. Then after Sora, Kairi, and Riku came in the nurses office from the Gummi Ship to bring the trio back to the ship, the entire Monster High student body asked to join.  Just when they asked, Lock, Shock, and Barrel asked also, and said that they'd be big help, and just as Sora, Kairi, and Riku disgused it, they all agreed and the students joined the team.
Ad blocker interference detected!
Wikia is a free-to-use site that makes money from advertising. We have a modified experience for viewers using ad blockers

Wikia is not accessible if you've made further modifications. Remove the custom ad blocker rule(s) and the page will load as expected.