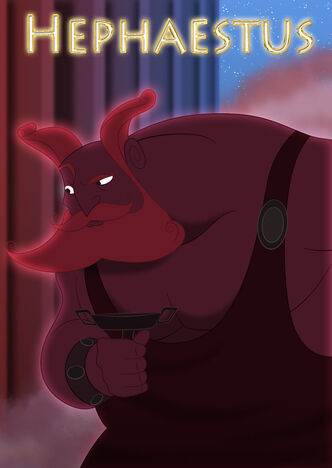 Hephaestus
 is the Olympian God of the forge. As the God of blacksmiths, he can create almost any weapon imaginable, he is also the creator of Zeus's thunderbolts. Hephaestus is the son of Hera. He was captured by the Titans during the war against them and Hades but he was released by Hercules.
Hercules (film)
Edit
In the film, he has a very minor role in which he only appears in minor cameos.
In the beginning of the film, he is present for the party celebrating the arrival of Zeus and Hera's newborn child Hercules. Hephaestus along with the other gods was sent to find Hercules, but it was too late as the baby had already been turned into a mortal and was adopted by a mortal family. Eighteen years later, he is seen imprisoned with the other gods after they lost against Hades and the Titans. Luckily he and the other gods are freed by Hercules.
Hephaestus possesses the natural powers an abilities of an Olympian god such as:
Immortality: Hephaestus, like all of the Olympian Gods, has universal immunity from death
Omnipresence: Hephaestus, Like all of the Olympians Gods, is able to be passively present everywhere
Superhuman strength: Hephaestus, like most if not all Olympian level of physical strength that far surpasses the physical strength of typical mortal.
Limited Magic: Even though Hephaestus has not been seen displaying vast amount of magic, he has shown to possess the common magical abilities of an Olympian god such as Teleportation and shapeshifting.
As the god of the Forge, he is a skilled blacksmith: Hephaestus is able to forge powerful and magical weapons such as Zeus' Thunderbolts and Armageddon Bow.
On Sora's Team
Edit
After Sora and the team were finished with their mission, he wanted to create a keyblade like Sora's and for Zeus.
Ad blocker interference detected!
Wikia is a free-to-use site that makes money from advertising. We have a modified experience for viewers using ad blockers

Wikia is not accessible if you've made further modifications. Remove the custom ad blocker rule(s) and the page will load as expected.