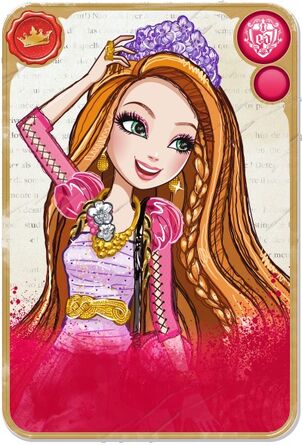 Holly O' Hair
 is part of Rapunzel as the next Rapunzel, and she is a student at
Ever After High
. In the destiny conflict, she is on the Royal side. She has a twin sister named
Poppy
, who is a Rebel.
Personality
Edit
Not much is known yet about Holly, since she is new to Ever After High, but she is already used to letting others use her hair for tower escapes and she seems happy to help. As she says in Damsel-in-Distressing class in The Storybook of Legends, an active imagination is every princess's friend. This is a pastime she will rely heavily on in her own fairy tale.
Appearance
Edit
Holly has very long strawberry blonde hair with a braid on the side. 
In Ever After High
Edit
Holly is the daughter of Rapunzel and her successor. Poppy O'Hair is her twin sister. She is slightly older than her, although that has recently come to be doubted.
Holly has a secret crush on Daring Charming. She fears others, Apple in particular, finding out. 
On Sora's Team
Edit
As everyone including Holly helps Sora and the other team, Holly struggles when on missions in scary places and worlds.
Ad blocker interference detected!
Wikia is a free-to-use site that makes money from advertising. We have a modified experience for viewers using ad blockers

Wikia is not accessible if you've made further modifications. Remove the custom ad blocker rule(s) and the page will load as expected.