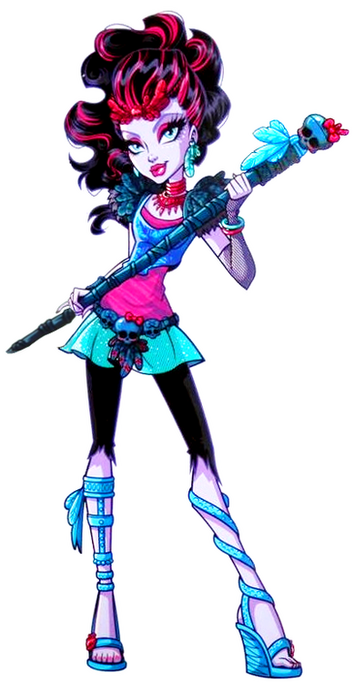 Jane Boolittle
 is a character in Monster High, first seen at San Diego Comic-Con International of 2013.
Personality
Edit
Jane was born somewhere in the jungle, where she was discovered at five à six years of age by Dr. Boolittle and Dr. Moreau. Dr. Boolittle adopted her, but since the scientists had come to the jungle for long-term research, Dr. Boolittle kept living in the general vicinity of her old home. Due to living with a limited amount of people around her for so many years, Jane has spent little time socializing with other people and thus feels very scared and apprehensive about speaking to groups. She loves animals dearly, and thanks of her ability to speak their language, she prefers the company of animals to people. Nonetheless, she's willing to try and socialize more when Headless Headmistress Bloodgood offers to enroll her into Monster High.
Jane, having had no contact with humans or monsters for most of her childhood, does not know how old she exactly is. Her guess for the moment is 15 to 16. As well, it is unknown what kind of monster she is. Even after some six years of living with her and studying the environment, the scientists of the research station still have no idea as to her monster identity. The only clue available is her staff, which she's always had with her, and her pet Needles, who's also always been with her but refuses to reveal anything.
Appearance
Edit
She seems to have a doctor's bag and a huge staff, which may indicate she could be a witch doctor. Hence her last name, Boolittle, which is a pun on Dr. Dolittle.
In Monster High
Edit
Jane lived on her own in the jungle for much of her childhood, until she was found by two mad scientists, Dr Boolittle, who adopted her as his daughter, and Dr Moreau. The two raised her, and she helps them out with their research.
Due to her shyness, Jane has yet to become friends with any of the other students. However, in her webisode debut, she does become friends with the main Ghoulfriend's pets Watzit, Crescent, Count Fabulous, Hissette, Perseus, Shiver and Sir Hoots A Lot, who sneak into the school to keep an eye on their owners.
She owns a pet Sloth named Needles.
Ad blocker interference detected!
Wikia is a free-to-use site that makes money from advertising. We have a modified experience for viewers using ad blockers

Wikia is not accessible if you've made further modifications. Remove the custom ad blocker rule(s) and the page will load as expected.