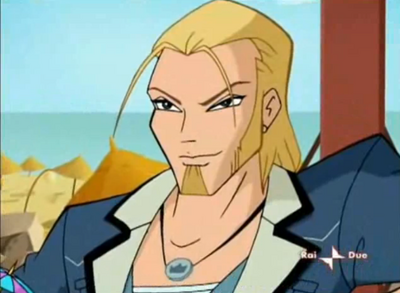 Jason Queen
 is a recording artist who resides in
Gardenia
. He discovers
Musa
's talent in The White Circle and decides to make her a music star.
In Winx Club
Edit
Jason Queen made his first appearance while Musa was performing with Andy's Band at the Frutti Music Bar in episode eight. He noticed her talent and gave her his card, offering to make a demo of her singing. Musa became very excited about this, but this caused major problems with Riven. His jealousy at the recording studio insulted Musa, causing her to break up with him. She makes the comment to Flora that Jason is everything she needs, and it has officially ended between her and Riven. Musa thought that Jason returned her feelings and became devastated upon being asked to sing at his wedding. But despite this, she agreed to it anyway.
Appearance
Edit
He has blond hair with two thin bangs and black eyes. His appearance is a bit similar to Ogron and Valtor.
On Sora's Team
Edit
When he met Marceline and saw her talent, he joins the team and produces other songs from each musical member to make them famous.
Ad blocker interference detected!
Wikia is a free-to-use site that makes money from advertising. We have a modified experience for viewers using ad blockers

Wikia is not accessible if you've made further modifications. Remove the custom ad blocker rule(s) and the page will load as expected.