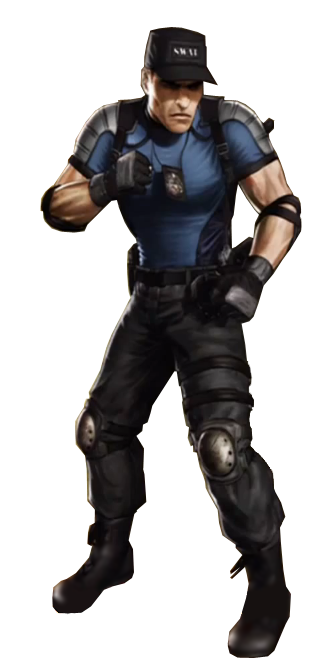 Officer Kurtis Striker
 is a character in the Mortal Kombat fighting game series. He made his debut in Mortal Kombat 3.
Stryker was introduced in Mortal Kombat 3 as a somewhat stout-looking man sporting a very urban design with a white-blue shirt, combat boots, gunbelt, black police pants, and a backwards cap. However, his appearance changed in Armageddon into a more serious-looking and modernized policeman. Originally described as being a leader of the Special Riot Control division in the New York City Police Department, he employs modern weaponry such as explosives, firearms, tasers, and nightsticks in battle, making him a force that is not to be underestimated. He is seen as the first person to run towards the pyramid in Mortal Kombat: Armageddon.
In Mortal Kombat
Edit
Stryker's biography screen in Mortal Kombat 3 revealed that he was the leader of the Riot Control Brigade when Outworld's portal opened over New York City. He attempted to keep order among the populace in the ensuing chaos, but soon all human souls were taken by Shao Kahn with the exception of those that belonged to the chosen warriors. Stryker did not understand why he had been spared until he received a vision from Raiden, instructing him to head west in order to meet with the other chosen warriors and learn about the importance of his survival. Although he did not wish to be one of the few souls that was spared, he entered the fray with the intention of avenging the lives of the innocent that he had vowed to serve and protect. Along with the other warriors, Stryker assisted in liberating Earthrealm from Shao Kahn's clutches. 
He later reappeared in Mortal Kombat: Armageddon with a complete redesign, including clothing resembling riot gear.
During the Battle of Armageddon, Stryker becomes the first kombatant to attempt to get to the top of Pyramid of Argus. He is eventually stopped by Kano, who shoots him with his eye laser.
He is seen dead at the beginning of Mortal Kombat (2011), his body lying behind Sonya Blade.
Story of Joining Sora's Team
Edit
When the Heartless and Zelnemies were attacking in the Earthrealm, he joins the team when he was spying on them when they were fighting against the villains.
Ad blocker interference detected!
Wikia is a free-to-use site that makes money from advertising. We have a modified experience for viewers using ad blockers

Wikia is not accessible if you've made further modifications. Remove the custom ad blocker rule(s) and the page will load as expected.