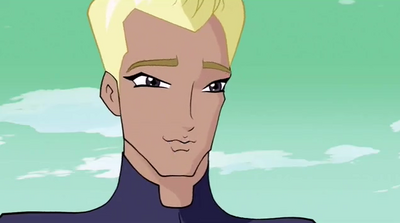 Roy
 is a yacht driver who appears in Season 5 of the "Winx Club".
Roy works for Aisha's father. He drives a yacht that can travel to any body of water in the Magic Dimension.
In Winx Club
Edit
Roy first appears in The Power of Harmonix where he drives a yacht in a body of water, so Aisha and the girls could get to Andros. He then appeared appeared in The Shimmering Shells where he said he would come with the girls but Aisha said no. He then appeared at the party at Alfea with two drinks in The Secret of the Ruby Reef and one of them was to give to Aisha, but his plans changed when Stella brought three Specialists and Aisha got angry because she didn't want to dance. He assisted the Winx to help find the Gem of Empathy in Data Bridge castle on Zenith, Tecna's home planet. As seen in episodes 24 and 25, Aisha and Roy have developed romantic feelings for each other.
On Sora's Team
Edit
Roy enjoys riding the ultimaate boats on the team when he travels by water. He once met Lagoona Blue on his first mission with her when they started and developed a strong friendshsip.
Ad blocker interference detected!
Wikia is a free-to-use site that makes money from advertising. We have a modified experience for viewers using ad blockers

Wikia is not accessible if you've made further modifications. Remove the custom ad blocker rule(s) and the page will load as expected.