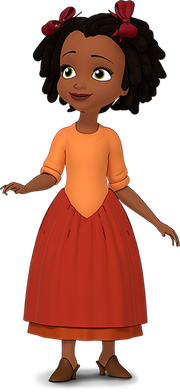 Ruby Hanshaw is one of the supporting characters of the Disney 2012 television special Sofia the First: Once Upon a Princess and its 2013 spin-off TV series.
She is Sofia's best friend (along with Jade) from before she became a princess, along with Jade. Despite this major change, they all remain close friends. She is forgiving of others such as the case with Lucinda. In "The Buttercups," it's shown that she, along with Jade and Sofia, are members of the Buttercup Scouts, and her mom, Helen, is their troop leader. She is also a very good singer.
Personality
Edit
Ruby is very active, and fun. Her kindness is through the roof as she is forgiving to those around her. She's also loyal to her best friends, even when she makes new friends, she never forgets her old friends.
On Sora's Team
Edit
Ruby and Jade often team up with Sofia whenever one of them is picked for a mission. Ruby loves singing on Karioke night, and hanging out with Mabel, Cameron, Owen, Oona, and Jake.
Relationships
Edit
Digimon Partner(s)
Edit
Ad blocker interference detected!
Wikia is a free-to-use site that makes money from advertising. We have a modified experience for viewers using ad blockers

Wikia is not accessible if you've made further modifications. Remove the custom ad blocker rule(s) and the page will load as expected.