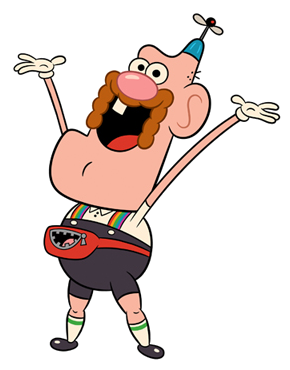 Uncle Grandpa
 is the main character of the series Uncle Grandpa. He is everyone in the world's uncle and grandpa. He goes around helping children who have usually never heard of him, so their parents have to fill them in on who Uncle Grandpa is, having fond memories of him from their youth. The children do not appreciate his help at first, but then realize the great adventures they have with him
Appearance
Edit
He is a short older adult who wears black overalls with rainbow shoulder straps, a white collar shirt and wears a blue propeller hat that sits on top of his head (which has a prominent lump). He also has a brown mustache, with a tooth sticking out of it, and a large chin. He also wears a talking red fanny pack, known as Belly Bag.
Personality
Edit
Uncle Grandpa is very cheery, and the majority of the time happy. He likes to help others, especially his friends and mainly helps kids around the world. Uncle Grandpa seems to have a different array of magical powers, that range from time travelling and making clones of himself. Uncle Grandpa is always using these magical powers, with the assistance of his Belly Bag of course. At first Uncle Grandpa's plans seem dumb, but in the end his plans usually work in his favor and he ends up getting the job done. 
Abilities
Edit
Uncle Grandpa has the ability to make copies of himself. His copies only appear without showing how he made them. So it is unknown how he does it. Uncle Grandpa has shown to had the ability to remove parts of his body and make them move on their own. He has removed his head from his body and seems to have a large variety of other heads and bodies of himself in his room. He has also been seen removing his nose in the episode "Belly Brothers" and has been seen with a drawer full of noses in his room too. Uncle Grandpa has also been shown to have wizard powers in the episodes "Belly Brothers" and "Tiger Trails". Uncle Grandpa will put on a wizard hat and cloak, and can make lightning come out of his hands. So biologically speaking, he has the ability to violate the laws of physics, or bend reality.
In Uncle Grandpa
Edit
Story of Joining Sora's Team

 

Edit
As Uncle Grandpa was traveling in his RV, he soon met Sora on his travels, and counted Sora as an ultimate child in need, as for making it the most epic longest, and extreme job ever. He joined without questioning.
Ad blocker interference detected!
Wikia is a free-to-use site that makes money from advertising. We have a modified experience for viewers using ad blockers

Wikia is not accessible if you've made further modifications. Remove the custom ad blocker rule(s) and the page will load as expected.